Welcome to the Bill Rapp Subaru maintenance schedule library. As a Subaru dealership, we see the value in keeping our drivers from the Syracuse, Liverpool and Oneida area informed about the necessary maintenance that their vehicles need to perform at their best and last for many years. We've compiled a library of these maintenance schedules so our drivers can stay on top of their vehicle's well-being. These guides are designed to provide you with the important information you need regarding your Subaru's necessary maintenance.
Maintenance Schedules by Model:
2017 Subaru Impreza Maintenance Schedule
2017 Subaru WRX Maintenance Schedule
2017 Subaru Legacy Maintenance Schedule
2017 Subaru Outback Maintenance Schedule
2017 Subaru Forester Maintenance Schedule
2016 Subaru Forester Maintenance Schedule
2016 Subaru Crosstrek Maintenance Schedule
2016 Subaru Outback Maintenance Schedule
Using Our Subaru Maintenance Schedules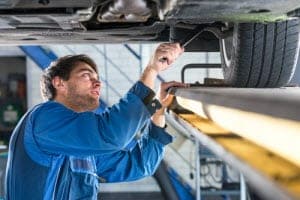 At Bill Rapp Subaru, we feel that it's our duty to keep our drivers informed about their vehicles and the recommended maintenance that they require to function properly. Our maintenance schedules are written in a way that is easy to comprehend. You don't have to worry about technobabble, because we want you to understand these guides so you can be prepared when it's time for maintenance.
To get started, all you have to do is browse this page and find the specific maintenance schedule that corresponds with your Subaru model. Simply click the link to get started on learning your vehicle's maintenance services. Scroll down to your upcoming mileage to learn all about the replacements, inspections and other services that you'll need to fulfill during your upcoming maintenance interval. 
Getting Assistance from Certified Technicians
If you're having trouble understanding your Subaru maintenance schedule or can't find the specific schedule you're looking for, you can always contact our team of automotive experts at Bill Rapp Subaru. You can also stop into our dealership to speak to someone in person regarding your vehicle's maintenance.
They'll gladly assist you in keeping your vehicle up on maintenance. They'll also help you order the necessary replacement parts for your Subaru. You can even schedule your next service interval with us on our website. Fill out the form and we'll contact you shortly with your appointment confirmation. 
At Bill Rapp Subaru, we're happy to help our drivers in the Syracuse, Liverpool and Oneida area keep up with the necessary maintenance on their vehicle so they can enjoy driving it for many years.