The 2022 Subaru Love Promise Community Commitment Award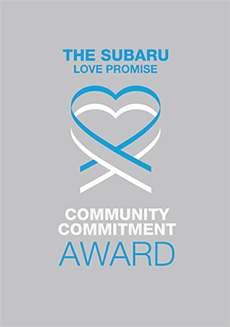 We've been nationally recognized for our dedication to our community and the Subaru Love Promise.
We're honored to receive the 2022 Subaru Love Promise Community Commitment Award. This award nationally recognizes Subaru retailers who are making the world a better place while demonstrating an outstanding commitment to supporting passions and causes in local communities. These efforts are focused in important areas such as the environment, community, health, education, and pets.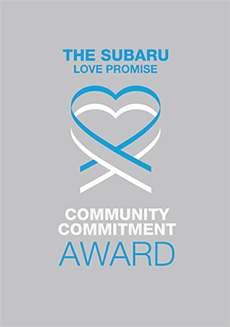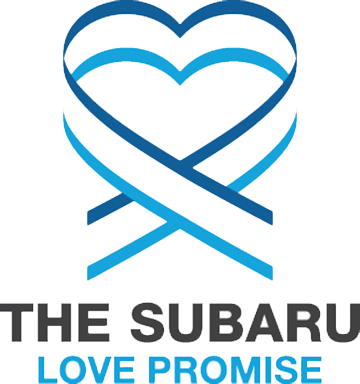 What is the Subaru Love Promise?
Subaru and our retailers believe in making the world a better place and the Subaru Love Promise is our vision of respecting all people. This is our commitment to show love and respect to our customers and to work to make a positive impact in the world.
How is Bill Rapp Subaru dedicated locally to the Love Promise?
Our Love Promise can be seen in various partnerships with local charities and non-profits. We're grateful for the opportunity, not only to be a part of our Central New York community, but to serve it as well.
CNY SPCA, Wanderers' Rest
Learning Disabilities of CNY
Jim & Juli Boeheim Foundation, Clear Path for Veterans, Food Bank of CNY, Make-A-Wish of CNY, Air 1 Foundation
National Kidney Foundation, Crouse Health Foundation
Love Promise Stories from Bill Rapp Subaru
Subaru and Bill Rapp Subaru believe in making a positive impact on the communities in which we live and work. We uphold that belief through our Love Promise Community Commitment. Every month, we select inspiring stories from customers and partners from around our area who strive to support our collective commitment and feature them here
Amazing community impact - Sonia M
Bill Rapp does more than just sell cars- they have helped support the community this year in so many ways from David's Refuge to the CNY SPCA. They are truly great and care about others. Thank you Bill Rapp Subaru for supporting the community.
---
Bill Rapp Subaru Gives Community to Caregivers! - Christine C
David Refuge is an organization that helps and looks out for the caregivers especially me – a woman who was ready to give up on her kids. Their community allowed me to connect with other caregivers and create a circle of friends and advocates to help me through my journey. I have 2 children with autism and other disabilities and find myself crying a lot, wondering if I am the right mother for them. Because of these programs, and the great people at Bill Rapp Subaru, I've gone on respite weekends to relax and connect with other caregivers. I have gone out on dates with my husband to rekindle our marriage and I've also been on a wellness retreat to learn how to properly care for my health. I appreciate the team at Bill Rapp Subaru and all their customers for showing me that I matter and that I'm truly NOT alone - Mostly, for being a family, before I met my husband, when I was alone and needed it most. Thank You, Anny Henry
---
Professional, Caring and Understanding - Dee S
Bill Rapp Subaru truly did go above and beyond on the day the CNY SPCA visited with our adoptable dog for the "Subaru Loves Pets" day.Over the past 4 months, the CNY SPCA has lost 5 key kennel staff and although we are hiring, we weren't getting applicants. In addition, our volunteers are down as well. Many of them work during the week and are only available on weekends. Our visit day was Tuesday October 26th. The week before, there was a COVID exposure at the shelter and a couple of staff members with direct contact were on quarantine, on top of the 5 we lost. We called the Friday before and apologized because we just could not spare any staff members, and we had no volunteers available to go. \ On the Monday before we had one person step up, and Bill Rapp Subaru was gracious enough to put the marketing back up and allow to come with one of our adoptable dogs on October 26th. They have been an amazing supporter of the CNY SPCA over the past few years, and we cannot express our appreciation enough. Our dog Ko, had an amazing day out, and thoroughly enjoyed exploring the cars.
---
Subaru Share the Love - Deborah H
The work David's Refuge does has impacted our community in a big way. Providing programs for Caregivers to meet other caregivers, respite weekends for caregivers to reconnect with themselves and loved ones. When I heard that Bill Rapp Subaru had chosen David's Refuge for a second year in a row for hometown charity I was thrilled and will continue to refer friends and family back to Bill Rapp Subaru. Thank you for having a massive impact on our community. Change cannot happen without the generosity of those around us.
---
Bill Rapp SUBARU Cares for families like mine - Amanda H
My name is Amanda Huey. Parenting is the most rewarding and difficult job that I've had. And I've worked in restaurants, landscaping, and currently healthcare. I could never have prepared for the special needs parenting journey... it's a 24/7 job that has a lot of challenges and that I can truly say I'm grateful for. It has made me into who I am. Bill Rapp continues to support David's Refuge and as a parent that has benefitted from respite, community and many other programs, I want to say thank you! By supporting David's Refuge, you remind me that I'm not alone in this!"
---
Bill Rapp SUBARU Cares for the Coleman Family - Christine C
Meet Stanley and Clarise Coleman. They were college sweethearts, and are God loving parents of Chase, a wonderful teenager diagnosed with autism. Advocating for special needs children and caregivers brings joy to them both as they each continuously learn how to best teach their own child to navigate the world. Clarise also supports the caregiver community as the director of a local nonprofit called Show Them How Smart You Are. As a family, the majority of their spare time is spent doing what Chase loves most: watching lots of movies involving SpongeBob, Marvel characters, humor, and animals. When asked what the Bill Rapp partnership with David's Refuge means to her, Clarise shared, "It means the world! All special needs parents need to know about David's Refuge. They need to know how special and supported they are. That's exactly what this partnership does. It shines a light on the David's Refuge community and programs." She went on to say "David's Refuge means quality self-care. The thing that I don't usually do for myself. I know every appointment for my son, my husband, my mom even - But I'm not taking care of me. So on the days I'm feeling so down, so low, feeling like I can't do this anymore, David's Refuge reminds me that they love me. That there's a community that loves me, and most importantly God loves me. Thank you to the whole team at Bill Rapp Subaru for reminding us, and so many others like us, that you care. It means so much!"
---
Bill Rapp Subaru Loves Caring For The Caregiver! - Christine C
The team at Bill Rapp Subaru knows that parenting can be a difficult journey under any circumstances, but it's especially challenging for those who provide full-time care to children with special needs. That is why they have partnered with David's Refuge to provide respite weekends to 50 couples, or single parents, who are 24/7 caregivers. The love and respect isn't just reserved for Bill Rapp customers, but rather shared with parents across Central New York - And these caregivers can't stop raving about the love they have received! "It is hard to describe being a single parent to a special needs child. If I had to choose one word, I'd have to say it's excruciatingly LONELY. All the responsibility is mine alone. Friends, both married and single, can't relate to my experiences. I don't get breaks. I can't run to the store because I forgot one thing. (hauling a child in a wheelchair out for a quick errand is just too much). At night, I sleep between moments of checking on my child to make sure she is not having seizures, or turning her over. I don't have another person there to help, to talk to or cry with. I am ALWAYS tired. Attending a respite weekend with other single parents has given me peers who DO understand. There is an instant bond and level of compassion - and it is so much bigger than just that fun weekend. It's helpful to know that when I'm struggling, someone in this world gets it, and feels my pain. I have people I can reach out to, even with a quick text, to say "I'm having a bad day. Without David's Refuge and the folks at Bill Rapp Subaru, I wouldn't have these people in my life. I wouldn't have the strength I gain from them. Thanks to this program I have a network. I have a community." ~ Julie Gridley, single mom "This was our first respite weekend, so we weren't sure what to expect. As we walked into the bed & breakfast we were greeted with warmth and kindness; the host volunteers smiling and welcoming us with open arms. It was a relief to check in and be told the bill is already covered. We would never be able to afford something like this on our own. Once in our room, we see a bottle of wine, two glasses, and a bag full of goodies. We felt so loved. The snacks were perfect, and in our bag was a homemade card from a little child. I started to cry a little. Then we grabbed the certificates for our dinner out and stopped in our tracks. We thought that we had $75 for dinner for both nights; Not for each night. We had prepared what we were going to eat ahead of time to stay on budget - We have never had this much for a meal. Now I really started crying. For the first time we didn't look at prices, just at the food. It felt freeing. We weren't rushed or having to cut food for someone. No arguments. No cartoons that night. Sleeping was blissful and restful that weekend. Thank you, Bill Rapp and David's Refuge, for this weekend. I feel rejuvenated in so many ways and ready to climb more mountains." ~ Anonymous Parent Together we are changing the narrative for these families and encouraging moms and dads to develop a regular rhythm of respite so they can better care for their children. An engine can't run on fumes. With the amazing support of our friends at Bill Rapp Subaru, we are refueling parents so they are armed and equipped to deal with the challenges that come with raising a child with special needs. We are proud and humbled to have this team of great folks join us in 'Caring for the Caregiver'.
---
Subaru Loves to Care- Upstate Cancer Center - Tiffany R
Upon entering Upstate Cancer Center one of the first things you will notice is that the atmosphere of this hospital is very different than most. Matt Capogreco, Program and Event Coordinator at the cancer center, says the building was created around one theme "healing through nature". The combination of natural light pouring in, bright greens and blues painted on the walls and the sounds of a piano playing in the background makes you feel both calm and comforted. It is such feelings that the designers of the cancer center were hoping to impress upon the patients who go there. Upstate Cancer Center is not only filled with light, color and music but also many pieces of gallery quality art. The idea was to create a space that would help bring tranquility to the patients throughout their cancer journey. As you walk through the cancer center you will find wall sized murals of nature scenes, an installation of pieces created by employees and their Pediatric Department, with clouds painted on the ceiling to complete its resemblance to a park. Art and architecture are not the only things that make Upstate Cancer Center different from other hospitals. The center is one of three hospitals in the United States that have a Vero Radiotherapy machine. The Vero is able to pinpoint tumors for precise treatment. Other features of the machine that make it extraordinary include its ability to swivel to almost any angle for accuracy and the fact that it accommodates for the patients breath as they undergo treatment. Upstate Cancer Center continues to show the community that they care for their patients. For the fourth year in a row the hospital has participated in Subaru Loves to Care program. Through this program The Leukemia& Lymphoma Society (LLS) and Subaru of America spread warmth, love and hope by delivering arts and crafts kits for young patients, messages of hope and cozy blankets to the hospital. This year's delivery took place on July 10th when the Western & Central New York Chapter of LLS alongside Romano Subaru and Bill Rapp Subaru proudly brought the messages, blankets and craft kits to the cancer center. Capogreco, who helped organize the delivery for the hospital, said that he patients absolutely love the blankets. When a patient is going through chemotherapy they generally feel very cold so "to have something of quality that is their own is really special". This year LLS and Subaru delivered around180 blankets and 40 craft kits to Upstate Cancer Center. The hospital expects that all the blankets and craft kits will handed out to patients in just two short weeks. As it is a part of LLS's mission to improve the quality of life for patients and their families, the organization is proud to partner with Subaru to help coordinate this special delivery to Upstate Cancer Center and several other local hospitals participating in the program.
---
Bill Rapp Subaru Loves to Care - Sarah N
On July 10th, 2018 Bill Rapp Subaru and The Leukemia & Lymphoma Society (LLS) teamed up to spread love, hope, and warmth to cancer patients at Upstate Cancer Center. During Subaru's Loves to Care month in June, messages of hope for cancer patients were written by visitors at Bill Rapp Subaru. Those messages, along with blankets, were delivered to Upstate Cancer Center by representatives of the dealership. The blankets will be used by patients to keep warm as they continue their fight against cancer and to help spread awareness of LLS and Subaru of America's goal, to provide hope and care one gesture at a time. Arts and crafts kits were also delivered for children who are battling a disease. A big thank you to Bill Rapp Subaru for making this delivery happen so that patients can feel a bit of hope.
---
Loves to Care Blankets @ Upstate Cancer Center - Matthew C
For the past two years Subaru has partnered with the Leukemia & Lymphoma Society (LLS) to provide lush blue blankets to cancer patients in need. They are one of our most popular donated items providing more than just warmth for those going through a struggle - they provide comfort. Cancer patients have difficulty with regulating body temperature so at Upstate we have invested in blanket warmers on all of our floors to insure they have access when needed. Many times we find that patients prefer their own blankets and we see the signature Subaru Loves to Care blue with many. Along with the notes of courage from staff and customer alike, the outpouring of generosity from this program has been felt by many and we look forward to many more years to come. Thank you for all that contribute to making our Upstate Cancer Center patients feel warm and comforted.
---