There's a lot that goes into keeping your car running as smoothly as you need, but one of the tasks that car owners tend to overlook is tire repair or maintenance. Although their importance often goes unnoticed, tires are one of the most crucial parts that your car has, providing tight handling and giving you traction under tough road conditions. Read on to learn why residents of Syracuse, Oneida and Liverpool need to visit Bill Rapp Subaru for tire repair and total car maintenance. 
Tire Resources:
Tire Alignments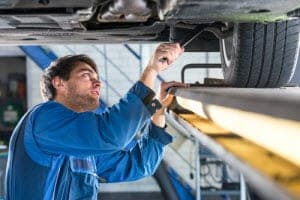 After years of driving on road surfaces of all types, it's usual for your car's suspension to become uneven, knocking your wheels out of alignment. Not only does this make it more difficult for you to operate your vehicle, it can take a tremendous toll on your tires and reduce their lifespan. During your tire repair, one of our excellent technicians will make sure your wheels are aligned so that your ride will be smooth and your tires preserved. 
Balancing Tires
Another common sign of wear and tear you can expect to see after years of driving around Oneida, Syracuse and Liverpool is unbalanced tires. When tires are unbalanced, your treads can wear unevenly, your suspension can be damaged and your vehicle can experience a vibrating sensation. Balancing your tires as part of an overall tire repair ensures even tread wear and a vehicle that operates the way you need it to.
Tire Rotations 
Because new tires can be such a large expense, it's important to do whatever you can to extend your current set's lifespan, including regular tire rotations. Rotating your tires helps to extend the life of your tread and makes sure that it wears evenly, which will also increase the overall lifespan of your tires. You should make sure to have your tires rotated every 6,000 to 8,000 miles in order to get the best result. 
Tire Repair You Can Trust 
The longer you've been driving your vehicle, the more wear your tiles will inevitably experience, meaning you need to seek regular tire repair from the excellent service department at Bill Rapp Subaru to keep your wheels intact and your car running smoothly. We offer our customers top quality dealer services, including tire repair, and would be proud to help you in whatever way we can. Schedule your next tire repair with us online today.