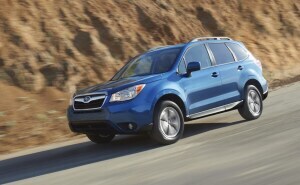 If you're ever been behind the wheel of a Subaru Forester, you may have seen one or two lights activate on your dashboard. But did you know what they meant? If not, don't worry. Most drivers in Syracuse, Liverpool and Oneida don't know what some of the most common dashboard lights mean. But Bill Rapp Subaru is working to change that by defining some of the most common symbols you can see behind the wheel in the Subaru Forester dashboard light guide.
All-Wheel Drive Warning Light
The symbol for the All-Wheel Warning Light is the letters "AWD." You will usually see this when you first start your Forester, and it should disappear after a few seconds. If it stays active on your dashboard, the first thing you want to do is check the tires as this light can indicate underinflated tires. If they're properly inflated, then it can mean that one of your tires are not fitted for your vehicle. In this situation, take your car to a professional service department right away for a repair.
Brake Warning Light
If you see the word "BRAKE" in red on your dashboard, check to see if you're parking brake is on. If it is, deactivate it, and the light should go away. If it sticks around, it can mean there's not enough brake fluid in your car or that parts in the brake system are faulty. It's important to schedule a brake repair as soon as this light comes on because if you ignore it, your brakes are more likely to fail.
Check Engine Warning Light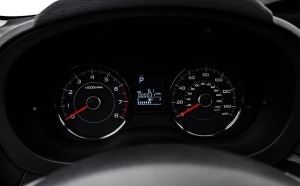 The Check Engine Light in your  Forester will look like an orange engine block. This lets you know when there is a malfunction in your vehicle's emissions system. If the light is blinking, then it means a misfire has been detected in the engine. Professional services are needed to remedy any of these problems. If left untreated, your Forester can suffer from irreparable damage.
Coolant Temperature Indicator Light
The symbol shaped like a thermometer in fluid is related to your Coolant Temperature Indicator Light. Every time you turn the engine on, it'll glow in blue to let you know the engine hasn't warmed up properly yet. Depending on the temperature outside, it will go away after a few seconds or minutes. If you see this symbol in red, however, pull over and turn off your car immediately. This means that the coolant temperature is too high, and your engine is in danger of overheating.
Tire Pressure Warning Light
When you see a light shaped like the side of your tire with an exclamation point in the middle of it, one or more of your tires is going flat. Be sure to check the air pressure of each tire and inflate the ones that are below the recommended air pressure.
Additional Dashboard Light Information
This dashboard light guide only features a few of the symbols you can see in your Subaru Forester. For more information about additional dashboard lights not mentioned in the guide, contact our local Syracuse, Oneida and Liverpool area Subaru dealership.
Plus, if you need help diagnosing an active dashboard light in your car, stop by the service department at Bill Rapp Subaru and schedule your service appointment now.