It is recommended to change you oil filter every second oil change that's performed on your vehicle. Your oil filter is crucial to the long-term health of your vehicle. It filters out impurities from your engine oil, which is the lifeblood of the engine. Keeping an eye on your oil filter is just as important as monitoring other vital engine components. But how often should your oil filter be changed? 
This is an important question for drivers in Liverpool, Oneida, and Syracuse, NY. The answer will vary depending on a variety of factors. Read on to learn more about what an oil filter does, how often it should be changed, and where to go to have your car worked on. 
What an Oil Filter Does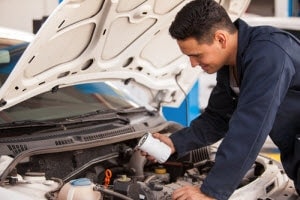 If your engine is like a human body, then your engine oil is like your vehicle's blood. It's what keeps things moving and healthy. Without it, your engine can't run and will shut down. The oil filter, in turn, acts much like a human kidney. Your kidneys filter the blood and remove all impurities, allowing your blood to service the body as efficiently as possible. The oil filter does the same, removing dirt and debris from your oil and allowing your oil to properly lubricate your engine without causing congestion. 
How Often Should I Change My Engine Oil?
How regularly your oil filter needs to be changed will vary between vehicles and drivers. Some experts recommend that you change your oil filter with every oil change, while others say every other oil change is more appropriate. Depending on your driving style and the age of your vehicle, the proper oil change should come every 7,000 miles or so. 
Drivers with older cars that have less efficient engines should have the oil changed more regularly. Additionally, drivers who frequently drive distances of five miles or less in stop-and-go traffic or drivers who frequently drive in dusty or dirty conditions should change their oil more often than 7,000 miles. 
When those driving standards are met, it's usually a good idea to be as thorough with your vehicle maintenance as can be. That includes more frequently changing your oil filter. 
Where Should I Take My Vehicle?
When it comes to vehicle maintenance, changing your oil filter is one of the easiest tasks. However, there are plenty of people who don't feel comfortable looking under the hood of their vehicle and that's understandable. Your vehicle's engine is a complex system that usually requires expert attention. 
A trusted mechanic or local dealership should be able to perform an oil filter change quickly, easily, and inexpensively. For our friends and neighbors in Oneida, Liverpool, and Syracuse, your place to turn for all things automotive is Bill Rapp Subaru. 
Change Your Oil Filter in Syracuse, NY 
At the Bill Rapp Subaru service center, we offer a full lineup of services and parts, including alignments, tire services, and oil filter replacements. Our trained and skilled automotive experts are more than happy to go under the hood for you, no matter what the problem is. 
We can also help you set up a maintenance schedule of your own, so you'll have a better idea of when to bring your car in for regular checkups. Contact us today for all of your automotive needs!