Subaru Lineup Safety Features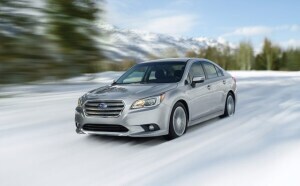 Subaru has always been dedicated to advancing safety and driver control in the automobile industry. In 1972. they introduced all-wheel drive powertrains into their vehicles for improved traction and safer turning. 
Now, Subaru continues to pioneer new ways to protect owners and others on the road. The following overview of their safety systems illustrates just how far they have come toward protecting Oneida, Syracuse, and Liverpool drivers. You can also review the specific Subaru safety features for each vehicle in the 2017 lineup by following the links below. 
Subaru Crosstrek Safety Features
Subaru Forester Safety Features
Subaru Impreza Safety Features
Subaru Outback Safety Features
Symmetrical All-Wheel Drive
Every single Subaru vehicle comes standard with their Symmetrical All-Wheel Drive (SAWD) system. It provides continuous power to all four wheels and adjusts in real-time as conditions demand. Diverting power can allow your Subaru to avoid tire slippage or to power through a turn thanks to its neutral power balance. 
Reinforced Frame and Advanced Airbag System
Subaru engineers each vehicle in its lineup to retain its structural rigidity in a collision by using ring-shaped reinforcements throughout the vehicle frame. 
Vehicles are also designed to work seamlessly with airbag systems and child seat anchors during a collision, reducing the risk of severe or permanent injury.
Unhampered Visibility
Subaru designs vehicle canopies to provide stellar outward visibility and reduce blind spots. High-strength A-pillars enable better driver visibility than most modern vehicles, especially when comparing Subaru SUVs to others. 
EyeSight Driver Assist Technology
The EyeSight suite of active safety technologies helps alert drivers to dangerous situations and can even help them avoid one altogether. These systems include:
Lane-Keep Assist
Pre-Collision Throttle Management and Braking
Adaptive Cruise Control
Rear Cross Traffic Alert
Blind Spot Detection
Rear Vision Camera 
Subaru Starlink
Subaru's Starlink system can provide stolen vehicle recovery and immediate roadside assistance, including automatic notification of the Starlink center in the event of a collision. 
Active Torque Vectoring
Torque vectoring systems are available on all Subaru Outback, Legacy, and WRX models. The Impreza Sport trim also comes standard with the system. 
Active torque vectoring applies targeted braking to front inside wheels during cornering maneuvers. By modifying the throttle in this way, the vehicle can reduce understeer and enhance driver control. 
Visit Bill Rapp Subaru
Bill Rapp Subaru's expertly trained sales associates will demonstrate or explain a model's safety features to help you make the best decision possible when purchasing a vehicle. If you live in Oneida, Syracuse, Liverpool, or anywhere nearby, please do not hesitate to ask us any questions by calling us or coming in for a test drive.