Coming off a redesign the previous model year, the Subaru Impreza comes with a variety of standard safety features, such as seven airbags and a rear-facing camera, as well as many advanced safety systems for improved awareness and protection on the road.
Liverpool, Syracuse, and Oneida drivers searching for a safe yet roomy and forward-thinking vehicle can look to the 2018 Subaru Impreza for major safety benefits and more. Read on to learn about the Subaru Impreza safety systems and then schedule a test drive at Bill Rapp Subaru today. 
Ring-Shaped Reinforcement Frame and Amazing Visibility
Every Subaru is engineered from the ground up to enhance structural rigidity as well as outward visibility. An open view of the road is possible from most angles, helped along by intelligently-designed headrests and features like a triangular window underneath the A pillar.
Pillar sizes are also relatively reduced while still providing rigid strength, thanks to a ring-shaped reinforcement frame. This new design is helpful for improving visibility throughout the vehicle, a common shortcoming in many vehicles.
Symmetrical All-Wheel Drive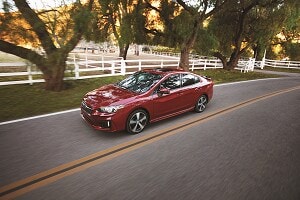 Subaru's AWD systems have been pioneering safety and performance since 1972. Their current Symmetrical AWD system provides exceptional balance and traction, even in the roughest road conditions, so you never have to worry about the harsh weather in central New York.
The system runs full-time AWD split between front and rear wheels for the entire journey. When slipping is detected, the system diverts power away from low-traction areas and into higher-traction ones, thereby giving your vehicle the purchase it needs to make it through rough road conditions. The system can also work through turns by diverting power between front and rear wheels to obtain perfectly neutral handling without oversteer or understeer, which helps you keep your vehicle under control at all times.
EyeSight® Monitoring
An advanced system of cameras, sensors, and electronic control units in the EyeSight® safety suite monitor the road conditions around your Subaru at all times. When a possible collision or obstruction is detected, the EyeSight® system can alert you or even modify braking and throttle to help you potentially avoid the collision or lessen its severity. 
Available EyeSight® systems on the Impreza include:
Adaptive Cruise Control.
Lane Assist and Sway Warning.
Pre-Collision Braking and Throttle Management.
In addition to the EyeSight® suite of technology, the Subaru Impreza can come with a host of other sensing and detection features. These include blind spot monitoring, Rear Cross-Traffic Alert, a backup camera, and automatic reverse braking, ensuring you're aware and protected in a variety of collision scenarios.
Adaptive Headlights That Turn When You Do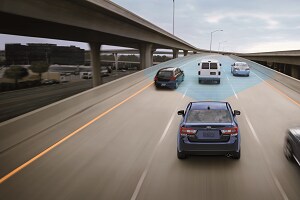 The 2018 Subaru Impreza Limited's steering-responsive headlights track the direction of your wheels, providing better visibility through the turn, rather than just on the outside of the lane, which helps in low-light conditions. A High Beam Assist feature can also automatically dim high beams when a vehicle is detected ahead, extending safe driving to others on the road, while giving you a little more peace of mind. 
Keep Track of Everything Right on Your Dash
An individual tire-pressure monitoring display keeps track of the tire pressure in all four tires, ensuring that all tires are inflated properly and lowering the risk of a blowout. This display can also provide supplemental information about your vehicle, notifying you of issues that need your attention and could potentially affect your safety on the road.