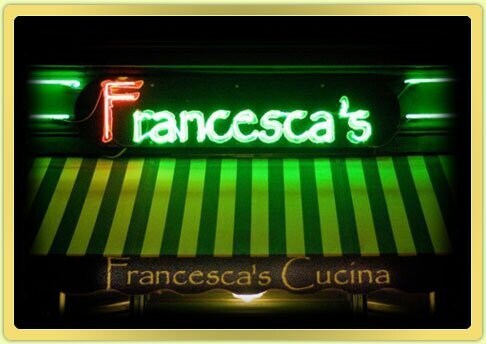 If you're looking for an exceptional catering service and location for your next big event near Syracuse, Oneida, and Liverpool, you're going to want to check out Francesca's Cucina. Whether you choose to take advantage of their charming facility for your wedding or family get-together, partake in their catering services, or visit the restaurant for a satisfying meal with friends and family, we assure you that you will not be disappointed.

To give you an idea of what we mean, we've provided you with a few samples from their vast menu selections. Take a look to see for yourself what Francesca's has in store for you, your family, and your guests.

Crab Stuffed Shrimp. Start things off with this appealing appetizer that features four jumbo shrimp, lump crabmeat, and lemon-chive butter sauce.
Salmon and Asparagus Tips with Pappardelle Pasta. This crowd-pleaser is made up of fresh Canadian salmon, asparagus tips, roasted peppers, and white wine lemon butter sauce over house-made pappardelle pasta.
Chicken Vesuvio. Here's one that has them coming back again and again. The Chicken Vesuvio consists of pan-fried breaded chicken breast topped with sautéed wild mushrooms, artichokes, pancetta, diced tomatoes, garlic, and parmesan cream sauce served over linguine.
Veal with Shrimp. With the Veal with Shrimp, sautéed veal scallopinis and jumbo shrimp are accompanied by shallots, garlic, wild mushrooms, roasted red peppers, sweet marsala cream sauce, and linguine.  
Be sure to pay Francesca's Cucina a visit on Facebook to get a sneak peek of a few of the delightful creations that are certain to get your mouth watering.

Francesca's Cucina is Waiting to be Discovered
You've just had a glimpse of the kind of quality that you can expect from this first-rate Italian restaurant and catering service. If you call Syracuse, Oneida, or Liverpool home, it's about time for you to check out Francesca's Cucina in the flesh.