Can you believe it's almost February already? Time always flies with that beginning-of-the-year rush, and before you know it, you'll be scrambling at the last minute to find the perfect Valentine's Day gift for that special someone. And if you wait too long, you'll find yourself settling for much less than perfect.
Why not take some of the pressure off yourself this year? Classics are classics for a reason. Time-honored gifts like chocolate and flowers may seem like clichés, but most people like them. Show your loved one how much you care this year by buying his or her favorite box of goodies.
To make your search easier, we put together our list of the best chocolate shops near Syracuse. Enjoy!
The Speach Family Candy Shoppe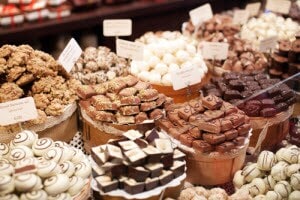 If your love has a fondness for tradition, chocolates from The Speach Family Candy Shoppe are sure to be your best pick. One of the oldest chocolate shops near Syracuse, they've been family-owned and -operated since the original owners immigrated to America from Italy and opened the shop in 1920—over four generations ago! Be sure to check out their whimsical seasonal gift offerings, as well as beautifully stacked trays of traditional, handmade chocolates. Pick up a bouquet of red roses, too, and you're sure to give an unforgettable, classic gift that your partner will remember forever.
Gabrielle Chocolates
Maybe this is a particularly special year for you and your partner. If you're planning to pop the question this Valentine's Day, wow your significant other by having the wedding cake picked out. Gabrielle Chocolates has been providing the greater Syracuse area with beautiful round and square wedding cakes since 1990. Their signature, traditional flower-decorated cakes are sure to impress anyone in attendance at your very special day. Stop by for a tasting. You'll be so in love, the extremely fair pricing won't even matter!
Chocolate Pizza Company
Perhaps your significant other likes gifts of the more "out there" variety. If so, check out Chocolate Pizza Company, the most original of chocolate shops near Syracuse. They make exactly what their name suggests: giant round disks of tempered chocolate "pizzas" with various decadent toppings. Their delicious Swiss-style chocolate is blended with delicious, hand-crafted toffee from a recipe that dates to 1919, right here in Syracuse. Slice into a Valentine's Day-themed heart-shaped chocolate pizza with your loved one this year, and it's sure to be a holiday neither of you will forget! And, if you're feeling even more adventurous, check out their peanut butter "wings," consisting of rippled potato chips dipped in peanut butter and chocolate. Pub food never tasted so sweet!
Valentine's Day is the perfect time to show your loved one just how much you care. Winter is a romantic time to snuggle up with someone you love, but the romance of snow and ice also comes with dangerous road conditions. No matter how you plan to celebrate, we here at Bill Rapp Subaru want to remind you to drive safe this winter!