Buying a used car from a dealership is an amazing way to get an impressive deal on a recent-model car while still protecting yourself as a buyer. Unlike most person-to-person transactions, a dealer is accountable for the vehicle they sell you. They also have a reputation to protect and minimum standards for their inventory, meaning that you have a much higher-quality, pre-vetted selection of vehicles to choose from.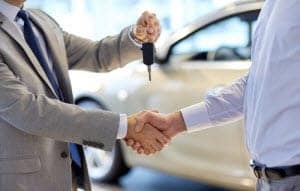 For all these reasons and more, Syracuse, Oneida, and Liverpool drivers can look forward to a positive experience when shopping at a local used car dealership. At the same time, there a few advantageous buying practices you should be aware of. Here are four steps that can make the used car selection process easier while helping you find the perfect car for your needs.
Start with Research
Your first step is to look into the options you have available and start narrowing down the vehicles you like. Eliminating vehicles based on size, type, or general price range can help you gain momentum during this process.
For instance, you may not be in the market for a pickup truck of any kind nor a large SUV, but you may also not want an ultra-compact "city car" since you want to carry people and cargo easily. Hedging in highs and lows this way can help you avoid overlooking certain models even if they do not fit within your ideal criteria, such as someone shopping for a hatchback remaining open to the idea of a small SUV.
While researching, go ahead and find the top recommended used vehicles by looking to authoritative sources like Consumer Reports or Car and Driver. Reading vehicle reviews can lay down some basic standards of comparison while cluing you into the models most worth considering.
Set a Budget and Further Narrow Down Your Options
Once you have a general idea of the vehicle models or types you would be interested in, you can begin searching online used inventories for local dealers like Bill Rapp Subaru. By looking at available cars near you, you can get a clearer sense of the price ranges you will encounter when comparing similar models or mileages.
With this information in mind, you can hone in on a more specific final budget. Make sure to leave room in your budget for closing costs, which will include sales tax and other fees. You can then narrow your options further down to a half dozen or so model candidates along with a few desirable examples of each gleaned from local listings.
Go to a Used Car Dealer and Test Drive Multiple Vehicles
Surprisingly often, people drive home in the first vehicle they test drive. However, even if this is the case, you should compare that vehicle to others on the lot in order to make a final decision. By weighing the merits of specific models and their respective features, you can finally begin to make objective comparisons drawing from experience as well as outside information.
Make sure to ask your sales associate questions about the vehicle, including if it has service records and a clean CARFAX report.
Weigh Your Final Decision
Making a final purchase decision can be difficult, but getting everything down on paper helps.
Write down the absolute most important criteria to you, such as total mileage, cost, fuel efficiency, or capability. Then, rank your possibilities according to these criteria. In the end, you may end up with a vehicle that does not resemble your initial idea of what you were going to buy, but nonetheless meets your expectations on paper.
Used Cars at Bill Rapp Subaru
At Bill Rapp Subaru, we carry a huge selection of used vehicles. We also have friendly, patient, and knowledgeable staff who can help educate you about certain models and features while making your final decision easier to make.
Start the process today by viewing our current used inventory and then booking your favorite models for a test drive.