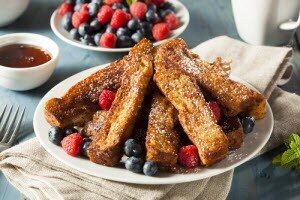 Did you know that Thanksgiving isn't the only day in November that's associated with great food? November 28th is National French Toast Day, and you can celebrate by indulging in this delicious breakfast. You could spend your morning crafting this dish, which would result in a messy kitchen and a meal riddled with doubt. Or, you could just make it easy on yourself by going out to breakfast. Here's our list of the best restaurants for French Toast in Syracuse, NY.
The Gem Diner
If you're looking for a classic French Toast experience, then you should check out the Gem Diner. This eatery first opened up in 1950 and offers you the authentic diner experience with its satisfying menu, friendly staff, and its visual appeal. This stainless steel dining car delivers you the goods for breakfast, lunch, and dinner, but we're here to discuss the first meal of the day.
The Gem Diner offers you a couple options when it comes to French Toast. You can opt for the classic menu item complete with brown sugar and cinnamon. Or, you could make it interesting by getting the Thick Italian French Toast. You can even add strawberries and bananas to enhance the flavor.
Nestico's Too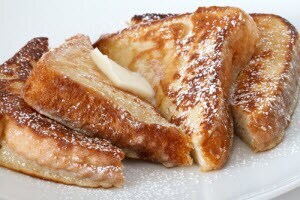 When you visit Nestico's Too, you feel at home. If you happen to be a regular, you already know that the staff goes out of their way to make you feel welcomed by remembering your name and having your food order in before you even sit down. However, if you're a first time guest, you're in for a treat.
You don't have to sneak in for the breakfast rush just to sample some of the delicious French Toast. You can actually order it any time of day. When it comes to this particular dish, you have some decisions to make. You can actually pick the type of bread that you want, with options like white, wheat, Italian, or even cinnamon raisin bread. You can even add a variety of toppings to craft your perfect dish.
Stella's Diner
Stella's Diner is family owned and operated. The Stellakis sisters always dreamed of having their own diner, and with enough hope and support, their wish came true. Since then, Stella's Diner has been a breakfast staple for the Syracuse area. You can taste the love and care in every dish that they offer.
However, when it comes to French Toast, Stella's Diner pulls out all the stops. Get French Toast by itself, or with eggs and meat. You can even top it off with some fruit. Or, you could splurge and get the Monte Cristo. This dish is French Toast stuffed with Ham and Swiss cheese and topped with powdered sugar, offering you a sweet and salty flavor in every single bite.
Now that you know about the best restaurants in Syracuse for French Toast, it's up to you to find your favorite so you can celebrate National French Toast Day in style.