The Best Golf Courses near Syracuse, NY for National Golf Month
Did you know that August is National Golf Month? You don't need to wait all year just for the month of August to play golf, but you can use this month as an excuse to head to the links and try to sharpen your skill set. To help you along in finding your favorite place to play this Scottish-originated sport, here's a list of the Best Golf Courses near Syracuse, NY, for National Golf Month. Try them all to find your favorite course.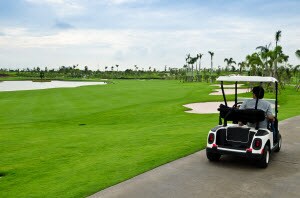 Bellevue Country Club
Bellevue Country Club was founded more than 100 years ago in Syracuse. This 18-hole golf course offers a beautiful 6,600 yard landscape that was designed by Donald J. Ross to inspire and challenge players in the area. This course is perfect for varying skill levels, due to the ease of some holes and the difficulty of others.
Bellevue offers a challenging and enjoyable day for golfers making their way from the challenging first hole, which is a long par four, all the way to the hole 18. The Bellevue Country Club is also a member of The League of the Iroquois, which is one of the oldest amateur golf leagues in the world. Try your hand at Bellevue Country Club today.
Drumlins Country Club
Drumlins Country Club was first constructed in 1926. Over the years it has become one of the most sought after locations for golfers all throughout the central New York area. This country club features two different 18-hole courses. The East Course is a members-only course that gets more challenging the more you play through, with an abundance of trees throughout the second half of your game.
The West Course is open to the public and offers 18 holes with varying levels of challenging obstacles for you to play through. After your game, you can always visit the Golf Shop to browse the latest clubs and tools to help you overcome those obstacles. Make Drumlins Country Club your destination to sharpen your skills and perfect your game.
Pope's Grove Golf Course
Pope's Grove Golf Course is the perfect place for golfers who are unaffiliated with country clubs. This golf-only location features a 9-hole course spanning 1368 yards, with beautiful well-groomed greens and hills that add a beautiful aesthetic to your day at swinging clubs. This course offers affordable rates with both games, replays, carts and rental clubs.
Pope's Grove Golf Course also offers discounted rates for both juniors and seniors. You can also sign up for an unlimited pass, so you can enjoy the links whenever you want for the entire year. Head out to Pope's Grove Golf Course so you can prepare yourself for National Golf Month.
Now that you know about the best golf courses near Syracuse, you're ready to plan your whole month of August around your favorite outdoor activity. Grab your clubs and head out for your best golf outing yet.