Christmas is right around the corner, and while you're busy shopping and decorating, you need to make time for the little things. And by little things, we mean ways to get into the holiday spirit. We did some research and found some fun and exciting Christmas events happening all around the Syracuse area. This is your guide to Christmas in Syracuse.
Breakfast with Santa
One of the top priorities of your Christmas errands is getting to take your little ones to see good ol' St. Nick. However, why stand in line at a mall when you can actually share a meal with the jolly fellow? Rosamond Gifford Zoo at Burnet Park is having Breakfast with Santa. During the first three weekends of December, you and your family can indulge in a delicious buffet-style breakfast while your children can go tell Santa what they want for Christmas. They can even decorate Christmas cookies with Mrs. Claus. Admission includes breakfast with Santa and even zoo admission after your meal.
23rd Annual Dicken's Christmas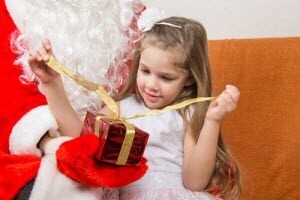 If you love the Charles Dicken's Christmas classic, why not be a part of it with the 23rd Annual Dicken's Christmas? This event starts the day after Thanksgiving and occurs every weekend until December 18th, and the final day of this festival takes place on Christmas Eve from noon to 2:30 p.m. You have the chance to interact with some of your favorite characters while you partake in several of the festival's offerings. This event will feature Christmas carol sing-alongs, free roasted chestnuts, and horse and wagon rides around the Christmas village.
It's a Wonderful Life
Did you know that every time a bell rings, an angel gets its wings? That's a classic line from the 1946 film It's a Wonderful Life, which you can see performed live at the Central New York Playhouse. There will be 10 shows of this classic Christmas tale of George Bailey and the true spirit of giving around the holidays. This live performance will be directed by Bill Lee. This show opens on December 2nd with 8 p.m. shows and it will close on December 17th. Sunday shows will go on at 2 p.m. Enjoy one of the best Christmas stories live at the Central New York Playhouse.
Delaney Brothers Bluegrass Christmas
One of the best ways to get yourself psyched for the holidays is by listening to Christmas music, but why not enjoy a fresh take on the classic songs? The Delaney Brothers will be performing all of your favorite Christmas songs in the style of bluegrass at the Center for the Arts in Homer, NY. You'll easily tap your toes to the sounds of the banjo playing "Jingle Bells." The show takes place on Sunday, December 18th at 2 p.m.
Now that you know about the different holiday events that are happening around Syracuse, you're ready to get into the holiday spirit with your family and friends.