Did you know that September is Better Breakfast Month? All of us wish we could take the time to enjoy a nice breakfast, rather than race out the door to get to work. When you're looking for a great breakfast to start your day, you may want to save yourself the trouble of cooking by heading out to a café or a restaurant. To help you find your perfect breakfast, here's a list of the 3 best breakfast spots in Utica, N.Y.
The Bagel Grove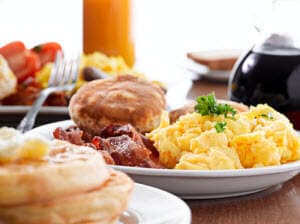 Bagels make for a quick, on-the-go breakfast. You can either add cream cheese or lox, or even make it complete with eggs, cheese and your favorite breakfast meat. Bagel Grove opened in 1988 and, since then, they've been the go-to bagel spot in the Utica area. Whether you want a plain, egg or everything bagel, you can get it all at Bagel Grove.
If you're looking to fill up before work, you can get a variety of different breakfast sandwiches. There's always the classic scrambled egg on a bagel or you could even get the Scromelette. This omelette and scrambled egg hybrid will surely satisfy your taste buds. It's made with egg, pepperoni, chives and mozzarella cheese, all squeezed neatly into a bagel of your choice.
Bagg's Square Café
Did you ever want to sample an authentic French breakfast, but didn't want to bother with the airfare and travel? Bagg's Square Café offers you the chance to do breakfast the French way without having to leave Utica! Start your morning off right with Brioche French Toast or a delicious selection from the bakery, including scones, cookies or even chocolate fudge brownies.
If you're looking for a bigger breakfast, you could get the breakfast burrito, which includes eggs, meat, home fries, cheddar cheese and chipotle aioli. You can always satisfy all your cravings with the Broad Street Breakfast. This dish includes two eggs, home fries, meat and Brioche French Toast.
The Local
There's nothing more satisfying than fresh and locally grown ingredients with your breakfast. At the Local, that's exactly what you get. This farm to table location serves breakfast in what used to be a library. The combination of the central New York produce and the rustic aesthetics makes this eatery one of the most sought after in the Utica area. There are even book shelves, so you can grab a coffee and a book and relax as you start your day.
Enjoy the all-day breakfast at the Local Farm to Table. You can get anything from fresh eggs, a breakfast sandwich or even French toast. This location uses farm-fresh ingredients from locations all over the central New York area, like the Jones Family Farm, Lone Rock Ranch and Alpine Echo Farm. Taste the freshness in every bite at the Local.
There you have it! The top 3 breakfast spots in Utica. Pick your favorite spot for your perfect breakfast. After all, it is the most important meal of the day.